Southwest Airlines' Response To This Britney Spears Prank Was Absolutely Perfect
While United Airlines continues to have the worst week ever, Southwest Airlines is enjoying some positive press, courtesy of a Britney Spears-themed prank that is making the blogosphere rounds.
Earlier this week, a 19-year-old college student by name of Juan (@xadoringpaige) decided to play a little prank on the airline, complaining that he had a horrible experience with one flight attendant. "One of your flight attendants was being extremely rude and basically harassed me throughout my flight. I am disappointed because I love Southwest Airlines," he wrote to a Southwest rep named Linnea.
As a quality customer service agent, the rep started to inquire a little more about the situation. "Basically she only referred to me as 'fattie' and was being extremely rude. When I asked her for extra sugar for my coffee she hesitated, and when she gave me it she whispered in my ear 'you'll die soon enough fattie,'" the user continued. "It was really rude. I have a picture of her if you guys need it for investigation."
Juan lifts the veil for his joke when he sends the rep an image of said Southwest Airlines. "Yes, her name is Britney. This is her," he wrote alongside a photo of the pop titan on the set of the 2004 video. But Lennea's reply is what really makes the whole gag worthwhile. "Opps, she did it again," she wrote.
"What inspired me to make it is that there has been a lot of airline drama and I wanted to lighten up the mood," Juan told HuffPost by email. "Of course, I wasn't intending of shifting the focus away from what happened with United, but I wanted to make people smile and laugh. And I am happy I was able to do that."
Note to self: Don't try and troll Southwest Airlines.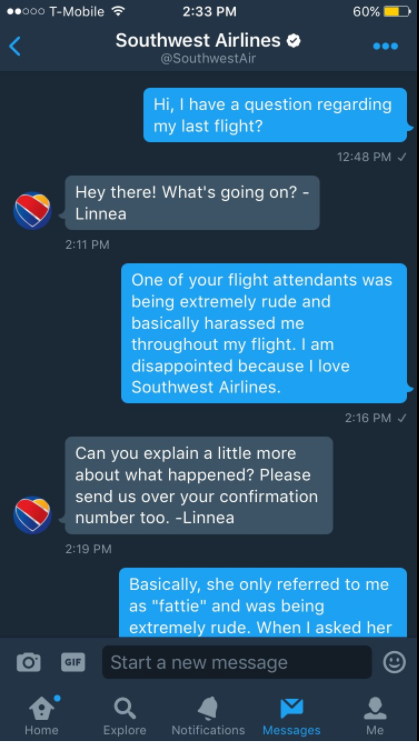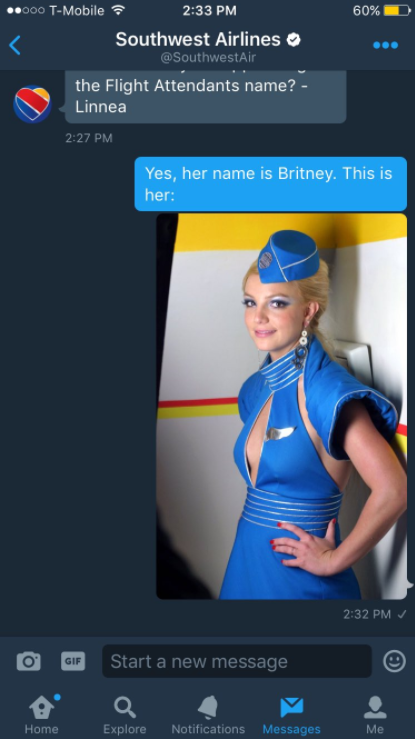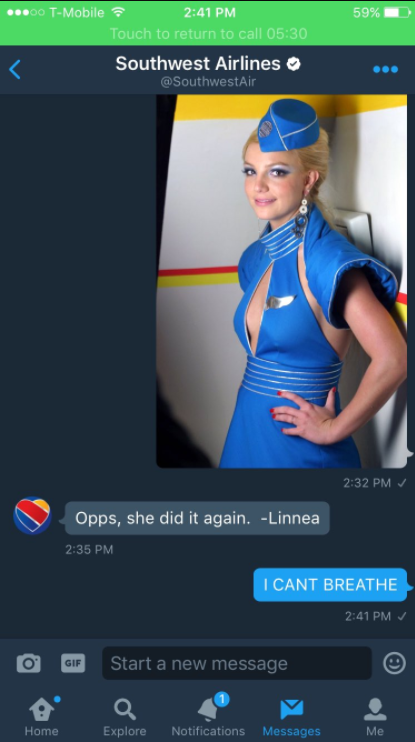 Photos: YouTube/BritneySpears/Twitter/xadoringpaige