Calvin Harris & Dua Lipa Bring The Summer Aesthetics In 'One Kiss' Video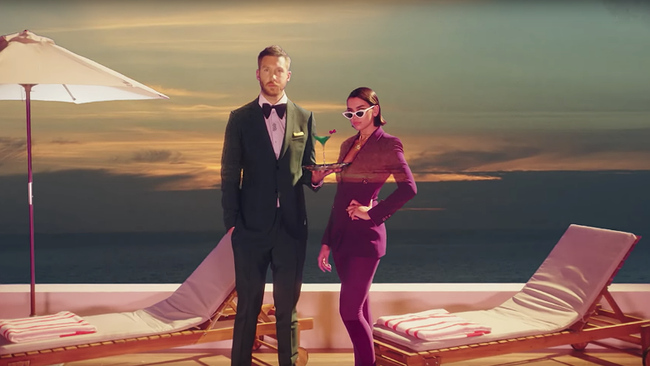 Calvin Harris and Dua Lipa's "One Kiss" is certainly a contender for 2018's Song of the Summer title and now we have a glitzy music video to accompany the '90s-esque dance track, which dropped on YouTube on Wednesday (May 2).
In the almost four-minute clip, which was directed by Emil Nava, the EDM heavyweight and Lipa are just as much the stars of the clip as the throwback backdrops, which see the pair afront retro designs and at the center of a hazy kaleidoscope of images. It's a visual feast of palm trees, poolside lounging and everything that makes you crave summer sunshine. "It can be [about] someone weighing you down, if the situation is someone who's really cramping your mood or making you feel bad," the 22-year-old said of the tropical house gem, which is sitting at the No. 64 position on the Billboard Hot 100. "It just really depends on if that person is really toxic. One thing you're really responsible for is the energy you surround yourself with."
"One Kiss" serves as the super-producer's first single since dropping "Nuh Ready Nuh Ready" with PARTYNEXTDOOR earlier this year. Meanwhile, Dua Lipa is working steadily on her "soulful" new album, which she described as "a new chapter to [her] life." "Because I feel like I've been reliving those moments for such a long time, that now I'm ready to create new ones," she told Billboard in January.
Photo: YouTube/Calvin Harris