Camila Cabello Reveals The Taylor Swift Songs She Wants to Hear On Tour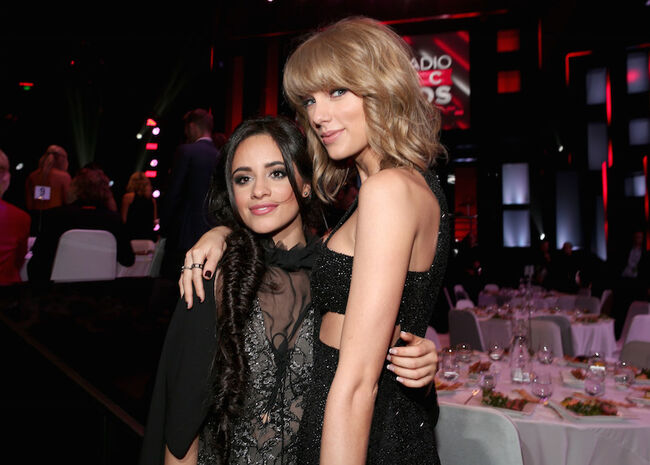 Taylor Swift's "Reputation" tour is here! On May 8th the tour kicks off in Glendale, Arizona and our Swiftie hearts are soaring, and sharing our excitement, is fellow Swiftie Camila Cabello, who along with Charli XCX, is opening for her pal Tay Tay on tour.
Here's what we know about this tour: Obviously, Tay will be performing her reputation music, but Taylor revealed (while dropping hints about her tour on social media) that she will also be including 10 songs from her previous albums in her set list. THROW. BACK. TAYLOR. SONGS.
Like a true Swiftie, Camila shared her excitement over the possibilities of which throwback Taylor songs we could all be hearing on tour, and listed which tracks she personally wants to hear. These include, "Hey Stephen" (Fearless), "Change," "Enchanted" (Speak Now), "Long Live" (Speak Now), and "Treacherous" (Red).
Camila tweeted, "THERE'S FOUR DAYS TILL THE REPUTATION TOUR HOLD MY WIG," adding, "ALSO '10 SONGS FROM PAST ALBUMS' MY HEAD IS SPINNING?!! WILL A HEY STEPHEN, OR CHANGE BE THROWN IN? ENCHANTED?! LONG LIVE ?! TREACHEROUS ?! HOW WILL I SURVIVE."
Same, Camila. SAME SAME SAME.
Taylor's "Reputation" tour will be hitting stadiums across the country beginning on May 8th in Arizona, and hitting cities across the US throughout the summer including Chicago, Denver, Philadelphia, Atlanta, Nashville, Houston, and more, before ending the US leg in early October in Arlington, TX.
Over the last few weeks, as she has been in rehearsals, Taylor has been sharing what Swifties have to look forward to at her concerts. Aside from her 10 throwback songs, Tay revealed she has eight costume changes throughout the show, and they are very sparkly (there's even a "snake skin" costume!) Taylor also revealed a "rocket sled" that will be used to transport her across the stadiums. This is futuristic, state of the art technology, people!
Taylor also announced that at the very end of each concert, there will be a bloopers reel from her tour rehearsals that plays for the entire stadium. She explained via her Instagram Stories, "Hey guys, it's four days away from the tour starting, and today's fact is that I wanted to tell you after the show ends and people are filing out going to there cars, there's going to be a bloopers reel that plays," Swift said on Instagram. "I'm going to show you a sampling of just a few clips of what I'm talking about -- times in rehearsals where things did not go according to plan."
So, Swifties ... ready for it?